3D RIGGED BASE MESH - EGON - AWESOME CARTOON CHARACTER
RIGGED BASE MESH- 3D CARTOON CHARACTER
Here is Egon! And he is ready for games, animations, apps and is optimized, texturized and rigged. Plus, he is a low poly character done 100% in Blender.
Egon is a excellent 3D Model and he is ready to be used in games or apps for Mobile and Pc. Also, he can be used in Unity3d, Unreal Engine and Blender without any kind of problem!
In addition, you can customize Egon from 0, Egon is ready for you to create clothes and adapt to any of your projects!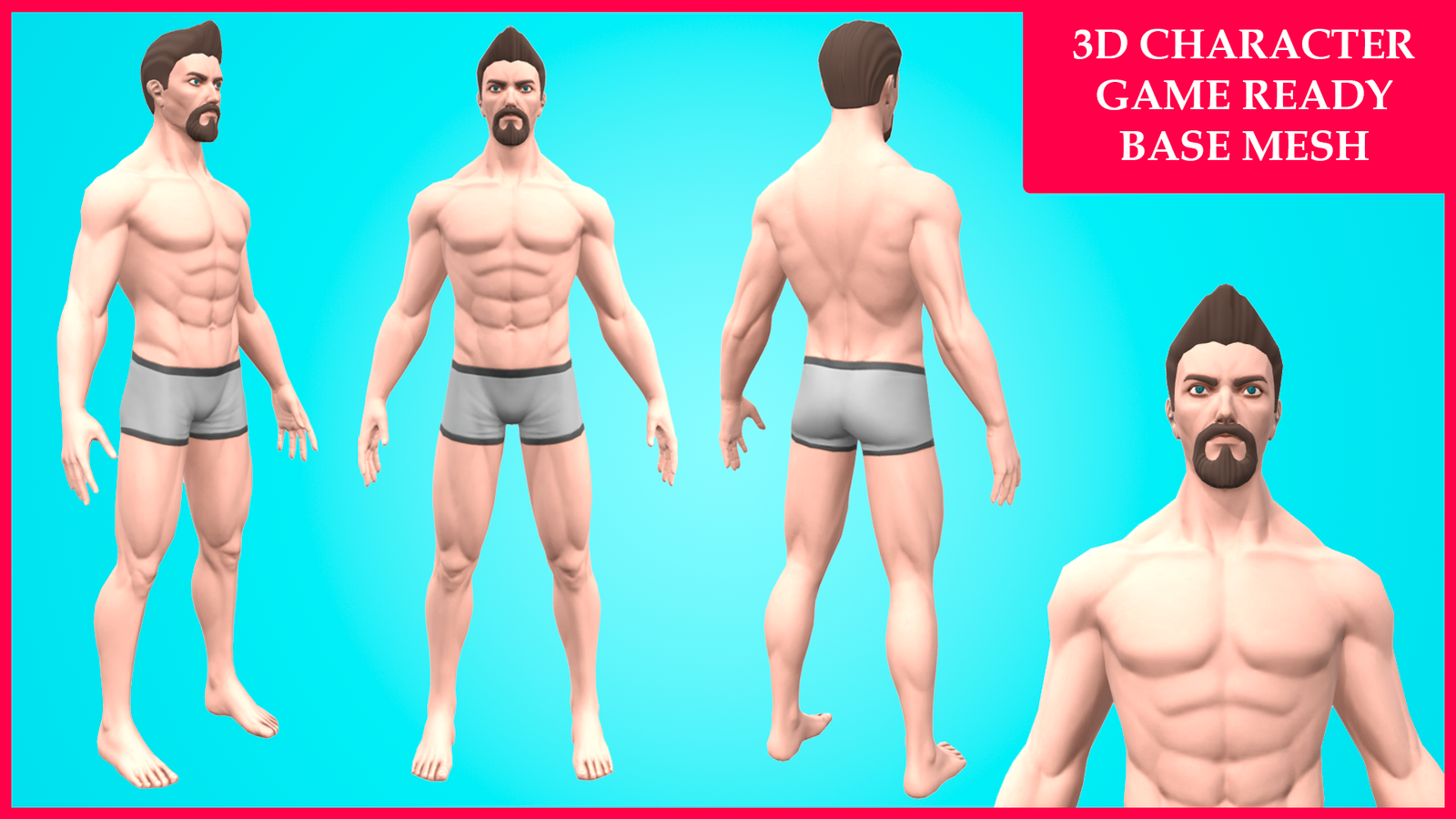 What do you get from this 3D Model Character?
A awesome Rigged Basemesh Character to costumize as you want and to suit to your needs
Game Ready 3D Model (All the body is rigged)
Texturized and Optimized
All of the textures can be edited and customize in any photo editor
A 3D Character Modeling in Blender
Plus, you can always contact us to get it customized!
Why do we do our character modeling in Blender? What is important to check when 3D Modeling Online?
We always work with Blender for our 3D Characters, as it's Software that will help you to change things easier in your models. It will also help you pocket as it's Free Software and has many years of updates and fixes. In addition, Blender is a software in which you can edit not only the 3d model but also modify the textures, UVs, Rigg and all the technical aspects that need to be adjusted for your projects.
Blender is an incredible tool to work whit and fits perfectly to work on any of our models
How will I get this 3D Character? What license do I get?
You will get a link to download this 3D Model Character. The file's an FBX file and textures are in PNG and JPG format.
You get a Standard License, you may use the 3D character model in any of your Projects and Games.
What if I Need a Female 3D Base Mesh?
If you need a perfect match for Egon, you can check Brianna! All of them are rigged 3D Models, ready to be animated or cutimized for your projects. Be sure to check regularly our online store, every week we add new riggs and characters, ready to be used.
This Cartoon Man Rigged is Really Nice, But I Need a Customized Model or Customized Clothing…
We are specialized in Stylized Low Poly characters and in CGI Characters for Modeling, video animations, and Projects. All our characters are always Texturized, Low Poly and with Rigged Body. You can ask us for:
Low Poly PC Ready Characters
Low Poly Mobile Ready Characters (These are more Optimized Models)
Cartoon Style Characters (From a cartoon pixel art style to Fortnite or any other Character Style)
Realistic Style Characters
CGI Characters
Face Rigging
A Specific Clothing on one of our purchased 3D Character Models
Just contact us and tell us what you need on our contact page!
GET DISCOUNT UP TO 20% ON SOME OF OUR 3D CHARACTERS AT Your3dcharacter